Certification for use on ships: HERMETIC canned motor pumps reaffirmed according to the 'Russian Maritime Register'
With the renewed certification of its refrigerant pumps according to the "Russian Maritime Register of Shipping" (RMRS), HERMETIC-Pumpen GmbH, one of the world's leading developers and manufacturers of canned motor pumps, is further expanding its market position in the field of maritime applications on the Russian market. The German pump specialist received the renewed approval for the Russian shipbuilding market at the end of 2018. Single and multi-stage canned motor pumps of the CNF and CAM series have been certified.
HERMETIC supplies the majority of its canned motor pumps manufactured at its headquarters in Germany to the refrigeration industry. For natural refrigerants such as ammonia (NH3) and carbon dioxide (CO2) and water-glycol mixtures that are increasingly being conveyed with such pumps. The key advantage of canned motor pumps from HERMETIC are their exceptionally high values of Mean Time Between Failures (MTBF).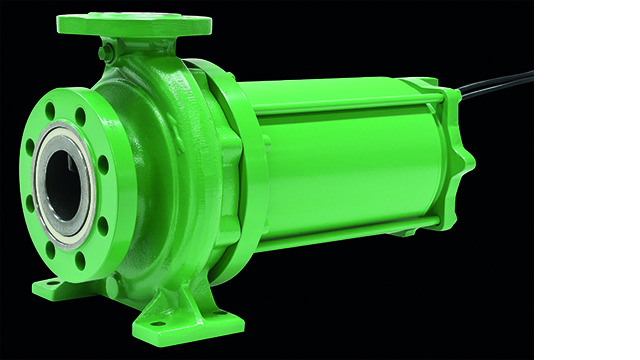 Single-stage refrigerant pump with canned motor, type CNF

Reliable, maintenance-free technology for maritime applications
As in refrigeration systems of food technology and deep freezing, refrigerant pumps on ships must be exceptionally reliable. Typical applications include floating cold stores on fish trawlers where a failure of the pumps cannot be tolerated. The lack of using any dynamic seals, such as mechanical seals, and contact-free operation on hydrodynamic plain bearings allow maintenance-free operation and increase the average service life of HERMETIC pumps enormously. For example, the latest generation of refrigerant pumps, the HERMETIC LC pump, designed specifically for liquid cooling, achieves typical MTBF values of 105 hours. HERMETIC pumps are used in marine technology for superheated water, i.e. water with temperatures above 100°C and for cooling offshore wind turbines.

HERMETIC – traditionally strong in the Russian market
Traditionally, HERMETIC has a strong presence in the Russian market in all applications needing canned motors. In addition to RMRS certification, certificates of the Russian TR directive for machines and for explosion protection are also available. An overview of the certificates is available online at https://www.hermetic-pumpen.com/de/downloads/zertifikate.
HERMETIC employs around 440 people at its headquarters in Germany and has subsidiaries in China and the USA. In conjunction with its worldwide service and contract partner network, HERMETIC offers reliable customer service over the entire life cycle of a plant.
Contact
For more information, please contact: