New Cutaway Model of Refrigerant Pump for Ammonia Training
Since the opening of the SCHAUFLER Academy in February 2016, BITZER's international training centre also offers ammonia training. To promote practical experience, HERMETIC donated a cutaway model of an NH3 pump to the SCHAUFLER Academy that will be used in each NH3 (R717) training from now on.
The intensive training is aimed at all refrigeration specialists with many years of experience in synthetic refrigerants, CO2 and hydrocarbons. During this training, the attendees will get to know the specific features of the refrigerant ammonia. In addition, components of the refrigeration circuit are discussed that are used less or not at all with other refrigerants. This includes circuits where the refrigerant is pumped to refrigeration points.
HERMETIC-Pumpen GmbH is one of the renowned manufacturers of pumps for this specific application. For the SCHAUFLER Academy, HERMETIC-Pumpen GmbH supplied a cutaway model of a CAM 3/3 NH3 pump for training purposes. The cutaway model is useful for showing various details to attendees.
NH3 pumps and NH3 compressors are a bit apart in the NH3 circuit; however, when operating the refrigeration system, their interaction must be considered. The cutaway model of the HERMETIC NH3 pump is an asset for the SCHAUFLER Academy – the educational institute would like to thank HERMETIC for this generous loan.
Refrigerant pumps from HERMETIC: Highest quality – high availability
No matter which refrigerant is used, CO2, ammonia, water-glycol mixtures or Frigene – with the HERMETIC S-Line we offer the largest pump portfolio for industrial refrigeration. Thanks to prefabricated assemblies, components and stocked series products in a quality proven thousand-fold, you will receive a perfectly suited product in the shortest possible time for seamless integration into your refrigeration system. HERMETIC: Your competent partner – known for decades for safety and reliability in the field of hermetically sealed centrifugal pumps.
More information at https://www.hermetic-pumpen.com/en/refrigerationpump/
Your direct contact at HERMETIC: Mr Christoph Galli – Sales Department for Refrigerant Pumps
galli.christoph@hermetic-pumpen.com
Mr Adrian Schäfer – Product Manager of Refrigerant Pumps
schaefer.adrian@hermetic-pumpen.com
Mr Martin Hülse – Marketing & Communication
huelse.martin@hermetic-pumpen.com
HERMETIC-Pumpen GmbH is a leading developer and manufacturer of hermetically sealed pumps and pumping technologies. As a specialist for canned motor pumps, we have earned a worldwide reputation for safe and long-lasting pumps which can be used for the most extreme applications and hazardous conveying media. HERMETIC pumps are suitable for fluid temperatures ranging from –160°C up to +480°C and system pressures up to 120 MPa. With power outputs from 1 kW to 690 kW, HERMETIC offers the largest capacity canned motor pumps on the market. HERMETIC'S pump portfolio for chemical and petrochemical industries is divided into two areas: the completely customer-specific E-Line (Engineered-to-Order line) and the modularly configurable V-Line (Variant line). With the S-Line (standard line), HERMETIC offers the largest pump portfolio on the market of industrial refrigeration technology. Currently, over 280,000 HERMETIC pumps have been installed worldwide for the most demanding pumping applications. HERMETIC employs roughly 440 people at its head office in Gundelfingen near Freiburg im Breisgau. The company has offices in China and the USA as well as a global service and contract partner network in over 50 countries.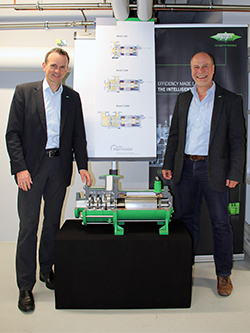 Photograph: Volker Stamer, Director of SCHAUFLER Academy, and Walter Reich, BITZER Application Consultant, are pleased with the cutaway model of the HERMETIC NH3 pump used for training purposes.